There are many different ways to staff a creative agency or firm. No two agencies are the same, and almost no powerpoint chart can show the real complexities of how an organization reports. If it did, there would be dotted lines running all over the place. The charts below are simplified organizational charts that attempt to show a few structures. To be honest, there are as many ways to staff an agency as there are agencies!
So, stick with the article, as the second section helps explain some terminology and organizational definitions. They may help you understand and identify what type of structure you may have or how to expand or contract it.
In other parts of this site, you will find agile based organizational workflow. This may be confusing to some when you first look at the names of the positions on the charts. Many firms have similar sounding positions, but the way the person actually works and what their responsibilities are can be very different from one agency to the next. You may also find agencies where they are stuck in mid-transition where part of the work is completed using agile methods and part of the agency still works in typical deadlines / milestone waterfall approach. In these agencies you may find two people with the same title, but have very different roles in the agency.
On a side note, is also very hard to implement agile processes in some agencies, since agile was built originally for the software industry. Agile was adopted easily at first by digital firms, since interactive development often mirrors the software development workflow. Agile has its short comings when it comes to adoption by agencies. Agile workflow does not really have a place where creative teams go off and concept for days and come back to the client with ideas. Agile requires strong agency / client partnerships. Agile requires agencies to bill different, time things differently, act differently and have a very strong client/agency connection. On the organizational side, this is where the account+production+producer model developed in order to adapt to agile like thinking.
And the agency world has changed in other ways. We hire more people that can do more than one role now more than ever — people who often play multiple roles, (designer and developer, strategist and creative, strategist and design) means that creative organizations no longer look the way they use to.
Size and size of a client's business also impacts how an agency staffs, the positions or additional layers of folks that are in an organization. Creative companies can be one person or hundreds of people, and their focus and strategic and functional position will determine how they are organized.
Now for the charts. Please note that these examples only show reporting structure, not how people actually work within the organization. These examples do not show integrated structures or team makeups.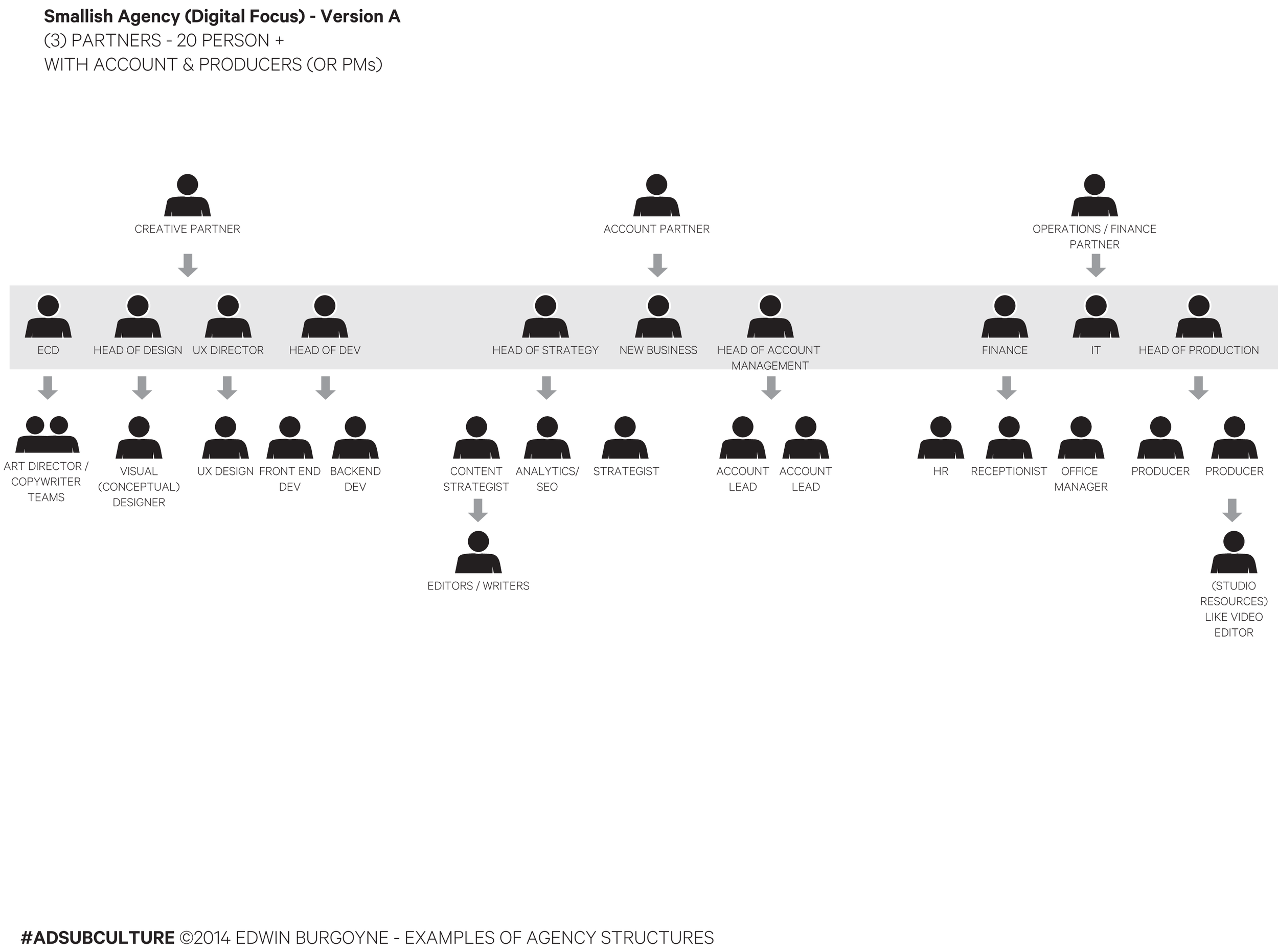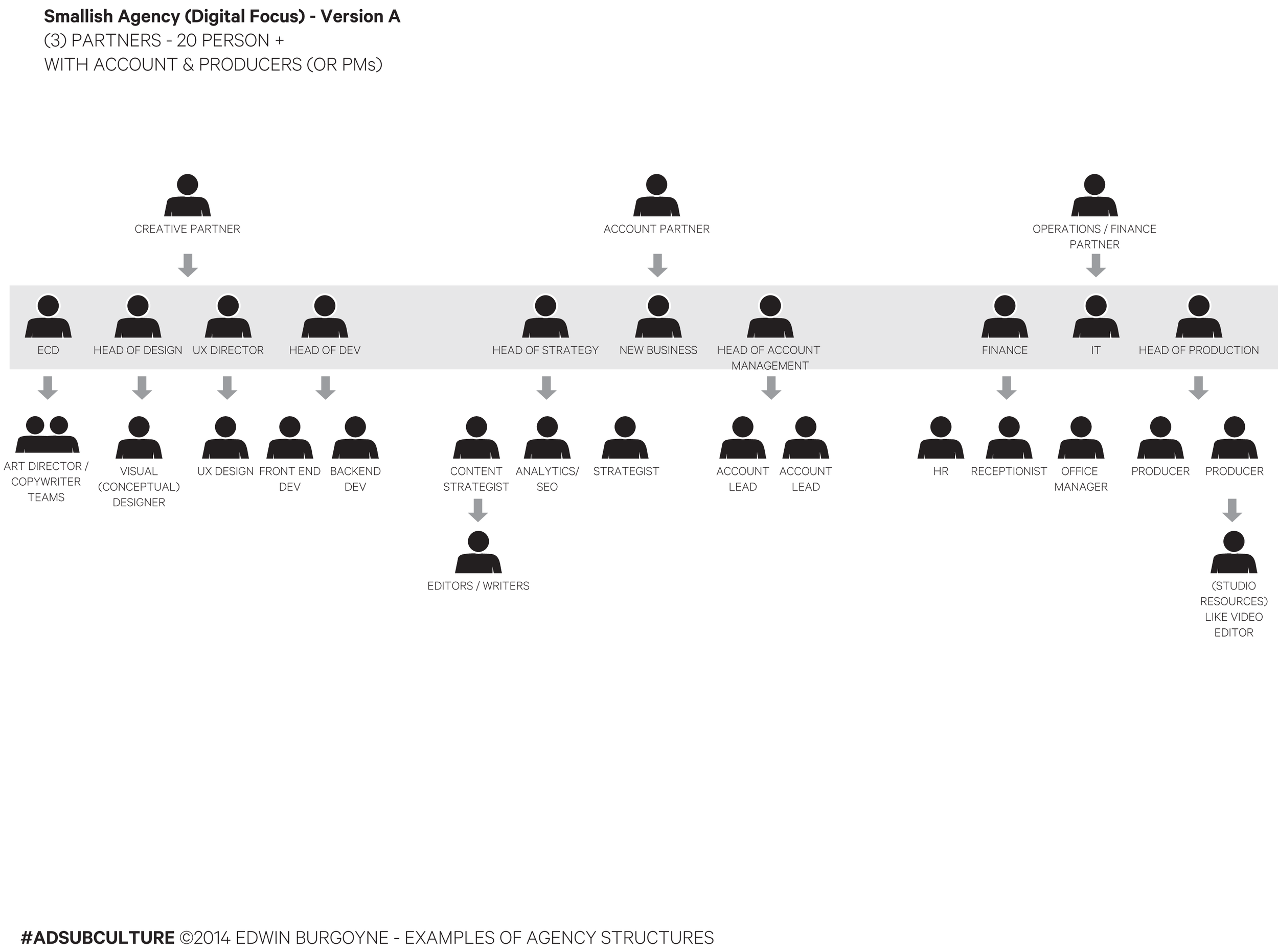 Click here to download a pdf version.
Simply put, organizational structures are frameworks the try to show the formal relationships within an organization. They help to establish lines of authority, accountability and help to illustrate how all the jobs or tasks within an organization are grouped together or arranged.
The type of structures that I often build for companies are tailored to the specific organizational (strategic) goals of the agency or brand. Organizations are also often based on the strengths of certain individuals. You may have a strong owner/strategist or a team of developers who are kick ass designers, or a culture that believes in a certain way of working that alters the way you work.
So when we are looking to build or change how we work we look to the building blocks of organizational structures and tweak them to best fit where the organization is now, and where it wants to be.
Chain of Command
One of the basic elements of an organization structure, is its chain of command. It is the unbroken line of authority that extends from the top of the company on down. This is often how functional reporting structures are defined, and doesn't necessarily match how teams are structured in the agency, or to whom they report to. The chain of command also shows who reports to who within the organization. You can have a long chain of command, short chain of command, or something that looks very flat. Chains of command often become more complex as the agency grows and expands. Small agencies tend to have smaller chains of command, with fewer employees often doing more than one role, in larger organizations it becomes a bit more complex, where there may be more specialists and functional needs.
At the top of the chain, many agencies have a group of founders, partners and/or a management or executive team (often made up of department heads). A managing director or managing partner is usually at the head of the table that either oversees the management team, or is charged with executing the executive team's vision. You may even have a president who is above the managing director.
Some agencies are run by a handful or partners or founders that share the top level vision as well as execution or work where they split the agency's management duties.
Some agencies structure their executive or management team as the agency "thought leadership" or top-level "new business team."
The Arm Span of Command or Control
In some of the above charts, you may have noticed the gray boxes, this best represents the management team level span of control. In organizations, the span of control represents the number of subordinates a manager can effectively manage. The higher ratio of subordinates to superiors, the wider the span of control. A narrow span of control shows that a manager has less report-ins.
Centralization vs. Decentralization
Centralization represents who makes the key decisions in the organization. In the slide show above, you can see some structures that center on a CEO and others that have multiple equal partners that share decision-making power. If the decision-making power is spread out, like having multiple-equal partners, then the structure is decentralized. If everyone reports into a CEO, or single-point then the organization is centralized. (A great example of a third structure, where teams are in control is shown in integrated teams article in the workflow tab.)
Matrix vs. Functional
Agencies may have both functional managers are well as team managers. Specialists report into a department head, or functional role, but also are part of a team structure run by an agency project manager, account person or producer. Remember, how agencies are structured (by title and functional chain) often bare no resemblance to how they actual work. You may not always have functional department heads, but organizations often have functional area people that act as leads. This is often by default. Leads are the organizations default go to person who has the most knowledge in a certain area or function, but may not have full-department level power.
Example of a Matrix structure:
Specialization and Generalists
Many agencies have multiple specializations or divisions of labor, this is the degree to which activities or tasks in an organization are broken down and divided among others.
An organization that has a lot of specializations are sometimes beneficial for an organization, as it allows employees to master specific areas. The downside is that it takes many people to work on a project.
Low specialization allows a bit more flexibility, but you wear more hats. Employees in a low specialty organization tend to tackle a broader spectrum of tasks (as opposed to being specialized for a single task). An example of this would be a front-end developer who is also a designer, or a print producer who is an art buyer and does mechanicals. Or a producer who project manages, contributes strategically and acts as the account lead.
However, agencies really work when teams are brought together to work on projects where each person can bring their own unique perspective regardless of their specialty.
Core team members may also cross over into other areas as well. The illustration below gives you an idea of how one individual and multiple individuals play different roles in the organization at different times. Please note not every team member is account for in the example below.
Formal vs Informal
Formalization deals with how structured things are within an organization. Some people in the organization may report to more than one person in the organization or the organization may have a very strict chain of command. Basically formalization takes into account the degree to which an employee's tasks are governed by rules and procedures. (And often unwritten rules!)
A formal organization structure really separates the individuals from the role or position, as the role stays in the organization, and even if the person leaves you will most likely replace that role. This is typical in large organizations that have required assigned FTEs for example.
An informal organization, on the other hand, places more value on the individual. The structure shifts to accommodate the unique strengths that new individuals bring to the table. If you fill a role, the individual may gain or lose responsibilities. It also allows for the evolution of a role or position based on the new individuals skill set, and places less importance on what team or department that individual is part of.
Departmentalization / Silos
On the agency side, this is how we describe how rigid team structures are. An agency may have a rigid structure where only certain people work on certain clients and projects. Or a looser structure that entails that teams have more freedom to interact an collaborate.
The types of functional departments in an agency has changed, as interactive agencies have grown more full-service, and as full-service has grown integrated. There are also agencies that are specialists in certain areas or businesses. In the old days, strategy was done by strategists, creatives connected, then hand-off work to one of three production departments. Silos that may exist in your organization may be broadcast production doesn't do digital work, or your social team doesn't get into content.
Lastly, some of the departments you may see in an agency are even named differently, but function very similarly. However, how you name a role in an agency still may mean something different from one agency to another. Here are some examples of functional areas that have similar names.
Function / Name:
Client Contact / Account Services, Client Services, Engagement Managers & Producers
Creative / Creative Services, Creative, Visual, Design
Production / Production Services, Producers, Production Management, Operations
Project Management / Project Management, Production Management / Traffic
Accounting / Accounting Services, Finance
Strategy / Strategic Services, Account Planning, Planning, Research, Analytics
Studio / Studio Services, Production Studio, Art Studio, Interactive Production, Broadcast Production, Design
Design / Design Services, Visual or Interactive services
Interactive / Interactive Services, Digital Services, etc.
Integrated / Integrated Services, Broadcast/Interactive, All Production or just Digital
Interactive Creative Services / Interactive plus Content and Social
Marketing / Marketing Services, Branding, New Business Sales
Media / Media Services, Media Planning
New Business / Business Development, Marketing
PR / Public Relations, Communications
Content / Content Strategy & Writing, Community Management, Social or Content Production (Interactive assets or Broadcast)
HR / Human Resources and operations
Creative Services / Creative, or Creative and Production Services
Advertising agency people like their titles.
While this next list is long, its an attempt to show some of the potential people that you may meet in an agency, what they actually do, how they do it, and how well they do it, is up to the individual. Titles do not make an agency. What skills people have and what they can bring to the table joined with others is what makes things work. Often, people bring skill sets that cross into other areas, we call these hybrids cross-functional.
No, you don't need this many people or types of positions to run a successful agency. You only need five skills. Can you find a client, understand their business, come up with an idea, execute it and ensure that you get paid for it? That's all that advertising needs. You can do this as one person or five, twenty or 150 — it doesn't matter as long as you continue to do those five things well.
This is a list that I put together for a student that shows as many people that I could think of that may work in a creative agency. I know I missed some titles, and have left out a few that are often combined. Add to this list by leaving a comment!
These are some of the titles you may find in an agency today;
Senior or Executive Management
CEO - Chief Executive Officer
CFO - Chief Financial Officer
CIO - Chief Information (or Interactive) Officer
CSO - Chief Strategic Officer
CMO - Chief Marketing Officer
CCO - Chief Creative Officer
CFO - Chief Financial Officer
CDO - Chief Digital Officer
CTO - Chief Technology Officer
COO - Chief Operations Officer
Managing Director
General Manager
Global Anything
Founders
Partners
Board Members
VC Backer(s)
Holding Company
Planning (often mixed with strategy and marketing positions)
VP Planning
Group Planning Director
Director, Planning
Senior Planner
Planner
Junior Planner
Client Services
Director, Client Services
Group Account Director
Account Director
Management Supervisor
Account Supervisor
Senior Account Manager
Account Manager
Account Executive
Account Coordinator
Interns
Engagement (Hybrid Account / Production or Project Management like People)
Director, Engagement
Director, Implementation
Director, Operations (not to be confused with business operations)
Operations Manager
Engagement Manager
Implementation Manager (paired with an Engagement Manager)
Executive Producer
Producer
Marketing
Director, New Business
Business Development Director
Director, Marketing
Marketing Manager
Marketing Coordinator
New Business Manager
Brand Development Director
Public Relations Director
Public Relations Manager
Publicist
Corporate Communications Director
Corporate Communications Manager
Communication Specialist
New Business Project Manager
Director Account Planning
Planning Director
Account Planner
Product Marketing Director
Director Brand Marketing
SEO Director
SEO Strategist
SEM Manager
Database Marketing Director
Direct or CRM Marketing Manager / Director
Director, Brand Partnerships
Interns
Strategy (Often intermixed with the above marketing or planning roles)
Director, Strategic Services
Group Strategy Director
Strategy Director
Strategic Planner
Brand Strategist
Digital Marketing Strategist
Content Strategist
Director Social Strategy
Social Media Strategist
CRM Strategist
Strategy and Analytics Director
Analytics Director
Analyst
Researcher
Director Experience Planning
Director, Research
Research Manager
Researcher
Interns
Creative Department
Global Executive Creative Director (ECD)
Executive Creative Director (ECD)
Creative Director (CD)
Associate Creative Director (ACD)
Senior Copywriter
Copywriter
Junior Copywriter
Senior Art Director
Art Director
Associate Art Director
Junior Art Director
(Maybe an Editor or Copy Supervisor)
Creative Resource Director
Creative Resource Manager
Director, Creative Services
Creative Services Manager
Interns
Traditional Design Department
Executive Design Director
Design Director
Senior Designer
Designer (Visual or Graphic Design)
Junior Designer
Intern
Media Department
Group Director, Media Planning
Media Director
Media Supervisor
Media Planner/Buyer
Assistant Media Planner/Buyer
Researcher
Project Management or Production Department
Managing Director, Production
Group Director, Production
Executive Producer
Senior Producer
Producer
Associate Producer
Production Coordinator
Scrum Manager (Master)
Product Manager
PMO Director (Project Management Office)
Director, Project Management
Senior Project Manager
Project Manager
Production Assistant (PA) or Runner
Ad Traffic
Traffic Manager
Traffic Coordinator
Proofreading
Art Buying
Director of Art Buying
Director of Art Buying and Production
Art Buyer
Junior Art Buyer
Traditional Studio Department
Head of Studio Services
Studio Director
Group Studio Manager
Studio Manager
Senior Production Artist
Production Artist
Senior Retoucher
Retoucher
Prepress Artist
Proofreader
Studio Scheduler
Illustrator
Story Board Artist
Presentation Designer
Traditional Print Production or Experiential Production
Director, Production
Executive Producer
Senior Production Manager
Production Manager
Junior Production Manager
Broadcast Production
Director, Broadcast Production
Executive Producer
Senior Broadcast Producer
Broadcast Producer
Content Producer
Junior Broadcast Producer
Traffic
Business Affairs
Line Producer

Broadcast Department
Studio CG / Motion Graphics
CG Supervisor
Associate, CG Supervisor
Lead Animator
Animation Designer
Motion Graphics Designer
Senior Editor
Retoucher
Colorist
Post-Production Producer
Editor
Line Producer
Director
Shooter / DP
Interactive Production
Managing Director, Production
Senior Interactive Producer
Interactive Producer
Junior Interactive Producer
Program Manager or Director
Product Manager or Director
Digital Advertising (Creative)
Group Director of Digital Advertising
Creative Director
Associate Creative Director
Sr. Digital Advertising Solutions Lead
Flash Developer, Digital Advertising
Flash Designer, Digital Advertising
User Experience (Ux) (Strategic View)
Director User Experience
Senior Experience Strategist
UX Strategist
UX Lead
UX Research
Director Mobile UX
User Experience / User Interface (UX/UI and UxD) (Design and Strategy)
User Experience Creative Director
Creative Technologist
Director of UX and UI
UI Designer
UI / UX Designer
UxD Designer
UxD Director
Director of Mobile UxD
UI Developer (Developer and Designer)

Interactive Creative
Creative Director
Associate Creative Director
Interaction Design Director
Senior Interaction Designer
Interaction Designer
Associate Interaction Designer
Senior Flash Designer
Senior Visual Designer
Flash Designer
Visual Designer
Presentation Designer
Junior Visual Designer
Programming / Development
Executive Technical Director
Senior Technical Director
Creative Director
Technology Director
Technical Creative Director
Technical Director & Solutions Arch.
Solutions Architect
Technical Director
Assoc. Technical Creative Director
Technology Project Leader & Solutions Arch.
Technology Project Leader (or Manager)
Senior Flash Developer/Solutions Arch
Senior Software Engineer/Solutions Arch
Senior Software Eng. & Content Mgmt Lead
Front-End Developer
Back-End Developer
Database Engineer
Full-Stack Developer
Technology Team Lead/Solutions Arch
Interactive Strategy Engineer
Assoc. Technology Project Leader
Senior Software Engineer
Senior Flash Developer
Software Engineer
Flash Developer
Ruby Developer
PHP Developer
Technical Project Manager
Senior Presentation Code Dev. & Sol. Arch
Senior Presentation Code Developer
Presentation Code Developer
Web Master
Mobile Application Developer
Application Developer
Director Product Development
Product Development Technologist
Content
Director Content Development
Content Developer
Content Producer
Social
Director Social Strategy
Social Media Director
Content Manager
Social Media Editor
Social Media Writer
Social Media Producer
Social Media Coordinator
Quality Assurance
Executive Director
QA Director
Associate QA Director
Senior QA Engineer
QA Engineer
Senior QA Analyst
QA Analyst
Associate QA Engineer
Finance
Director Finance
Controller
Accounts Payable / Accounts Receivable
Bookkeeper
Client Finance Manager
Finance Coordinator
Billing Manager
External Agency Accountant
That nice person in accounting that pays me
That no-so-nice person in accounting that makes me do time-sheets
Human Resources
Director, HR
Director Recruiting
Recruiter
HR Manager
Recruiter
Office Folks
Receptionist
Office Manager
Facilities Manager
Studio Manager (not to be confused with managing designers)
Administration Assistant
Executive Administration Assistant
Even more Interns
The guy that delivers my food at 8:00 at night
Baristas
Culture Manager
IT
Director, IT
Manager IT
User Manager
Help Desk Manager
Help Desk Specialist
Roy and Moss
IT Systems Administrator
IT Project Manager
IT Support Manager
Network Administrator
IS Manager
Developers
Engineer
Data Center Specialist
We secretly make fun of people in advertising that have these words in their titles:
These are real titles by the way:

Social Media Rockstar
Senior Social Media Capability Architect
Social Media Tactician
Social Media Wizard
Social Evangelist
Community Data Guerrilla
Social Media Enthusiast
Idea Inventor
Social Media Guru
Innovator-at-Large
Chief Creative Insurgent
Brand Champion
Chief Growth Officer
Director of Emerging Media
Web Alchemist
Any title that has "Ninja" in it.
Any title that has "Evangelist" in it.
Any title that has "Guru" in it.
Any title that has "Alchemist" in it.